Sales Executive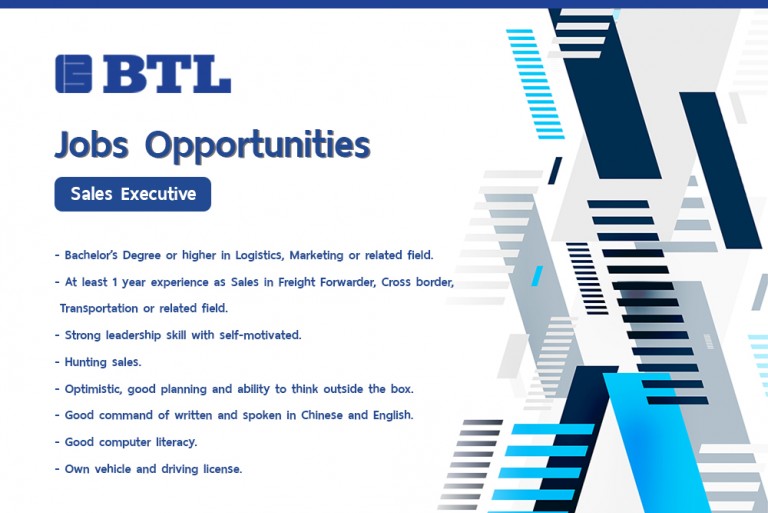 Qualification :
- Bachelor's Degree or higher in Logistics, Marketing or related field.
- At least 1 year experience as Sales in Freight Forwarder, Cross border, Transportation or related field.
- Strong leadership skill with self-motivated.
- Hunting sales.
- Optimistic, good planning and ability to think outside the box.
- Good command of written and spoken in Chinese and English.
- Good computer literacy.
- Own vehicle and driving license.
Responsibilities :
- Responsible for sales target, sales & marketing plan and implementation.
- Manage related reports (e.g. monthly sales plan, visit, forecast & budget and KPIs.)
- Maintain good relationship with existing customers and build trustful relationship with new customers at the senior level.
- Conduct sales activities comply with sales plan to drive to reach sales target.
- Supervise, motivate, review sales performance.
- Gathers market trends and information to management level and team.
- Coordinate with other departments to ensure excellent services to our clients.
Workplace : Nongkhai Province
Salary : Negotiable
Benefits :
- Provident Fund
- Yearly Health Check up
- Wedding Allowance
- Funeral Allowance
- Training & Development
- Insurance (Health / Accident)
- Annual Leave
- Bonus
Interested candidates are invited to send resume (only in English), expected salary and recent photograph to the address below:
Bangkok Terminal Logistics Co., Ltd. 127/25 Panjathani Tower, 20th Floor, Nonsi Road, Chongnonsi, Yannawa, Bangkok 10120
Tel : 02-681-2005 Ext. 203 or 093-579-1029
Email : [email protected]